Explore Your City - Charleston & Savannah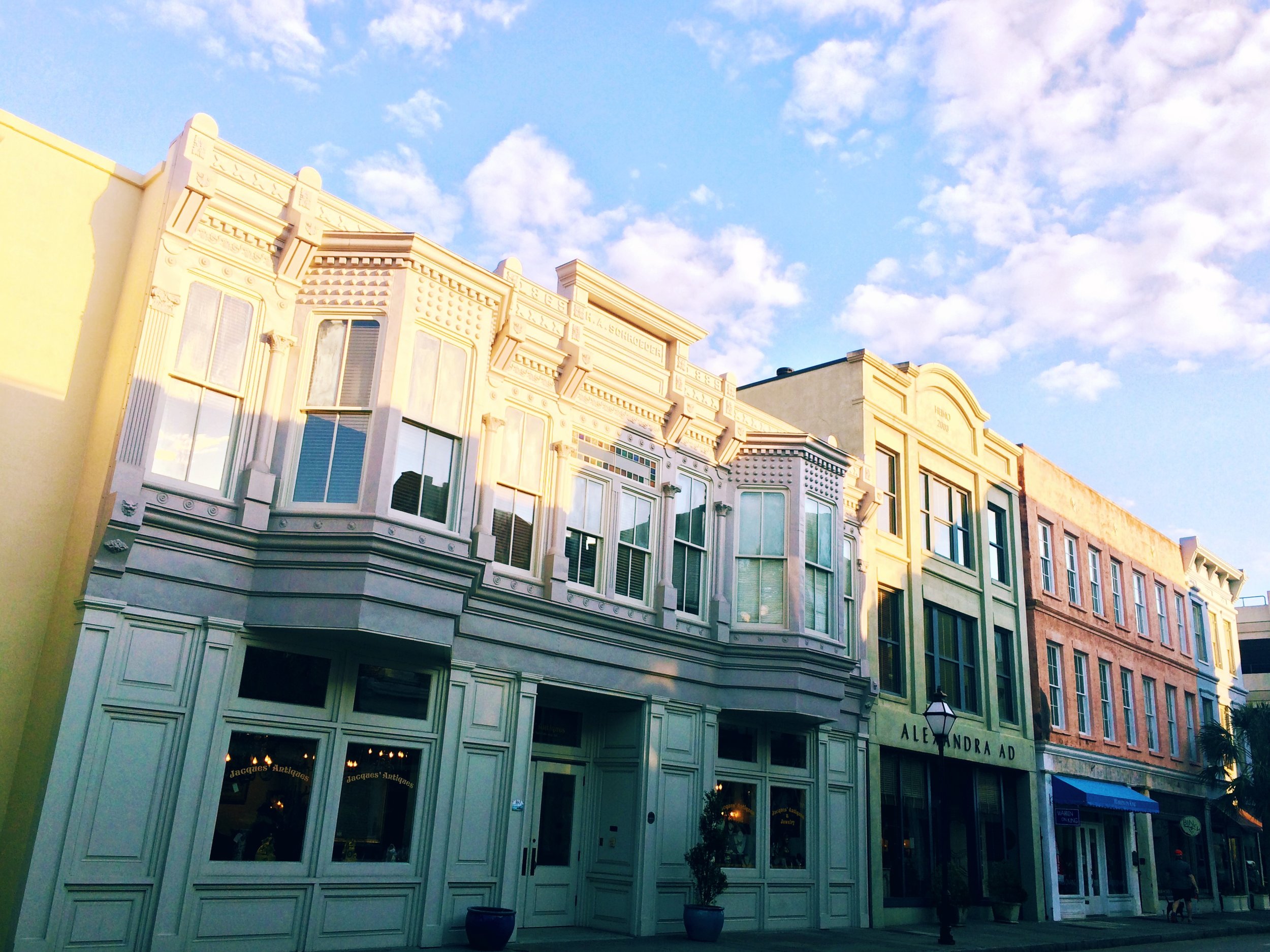 Charleston Travel
Although it is only a five and a half hour drive from Orlando, my travels hadn't taken me to Charleston until recently. I had heard only good things about this southern city, but in truth its only appeal came from knowing that it was near where my secret husband, Stephen Colbert, had grown up.
Known for seafood and sprawling plantations I wasn't sure how I would feel about this very walk-able and quaint historic town since I'm a fan of neither of those things, but any city known for food must have something to offer, right?
I abstained from dining on seafood or visiting a plantation during my visit, but here is a list of places I did go.
Word of warning for long weekend visits: a lot of places were not open on Monday so that limited dining options dramatically.
Breakfast is probably my main indulgence when on vacation, and I probably spend more time researching options for my first meal of the day than any other.
Our first choice was Hominy Grill but we arrived seven minutes past the time that they stop serving breakfast (a time frame unbeknownst to us), so we apologized to our waiter and left in search of a place that served breakfast all day.
Thanks to Yelp, we found Toast and saw images of amazing looking biscuits that we badly needed.
This isn't a hip trendy place, it felt more comfortable and family owned. The bartender was also our waitress and was extremely sweet and patient as we hemmed and hawed over the menu. At one point a woman who appeared to perhaps be an owner came over and chatted with us and asked where we were from. Everything felt inviting and welcoming, a feeling we didn't exactly get at Hominy Grill even in the brief time we were there.
I ordered the Eggs Meeting Street, a fried green tomato topped with a crab cake, poached egg and low country remoulade sauce served with a biscuit and grits.
The biscuit was about as perfect as a southern biscuit can be and was definitely the highlight.  The meal as a whole was great with the exception of the grits which I didn't care for.
Unlike other cities I have visited, I didn't stumble upon too many options for coffee as I walked for miles and miles checking out the shops around Charleston.
I got a tip from the owners of a local coffee shop back home to check out Mercantile and Mash which was just slightly off the walk-able streets for my morning latte so that's exactly what I did.
It's much more than a place to get coffee; it's actually a gourmet food emporium. Meats and cheeses, wines, and an assortment of other items filled the shelves here with a bar located in the center.
I ordered a dirty chai latte, took a seat at one of their many inside long communal tables and slowly sipped and enjoyed.
The Belmont
There are so many spots to chose from in Charleston, selecting just a few during your visit can be a bit daunting.  I found it helpful to split up courses of my meal at different places so I could try out more of a variety.  The Belmont on King Street was perfect for pre-dinner cocktails and an appetizer in the form of an amazing charcuterie board.
The cocktail menu went on for pages, so I decided to stick with an Old Fashioned so I didn't get sidetracked by all of the options and loose the light as the sun was starting to set.
The charcuterie menu allows you to choose your amount of meats and cheese with pricing tiers and then you check the box next to the items you want.  We went for the $20 option of two meats and two cheeses.  The board was quite filling for two people and we both indulged in Irish coffees to warm us up from the freezing temperatures outside.
The atmosphere is welcoming and warm while still feeling hip with a touch of vintage which is helped by old movies being projected on the wall at the back of the bar.
Charcuterie board or not, I would definitely recommend this place for cocktails.
Well you would think the charcuterie board above would have been enough, but because we were being literal gluttons, we walked a few blocks down to Monza for dessert.  Truth be told, dessert was never eaten because we became distracted by the menu of pastas and pizzas. The pasta dishes looked amazing so against my better judgement I ordered the Carbonara which consisted of bucatini, house pancetta, farm egg, and parmigiano reggiano. I rarely eat pasta, which is shameful to my Sicilian background, mainly because most restaurant pastas aren't good enough to merit the carb overload.  This carbonara however was delicious and well worth the pain of stuffing myself silly.
Sadly by the time we were feasting at Monza there was no adequate light to take food pictures, but the portions were just right and to anyone craving pasta while in Charleston, I would highly recommend Monza followed by a nice long walk down King Street to burn it off.
Rainbow Row
One of the main touristy things to do while in Charleston is to visit Rainbow Row.  Found along East Bay street sits a series of thirteen colorful historic houses that are pure eye candy.
It's interesting to note that this area was in slum conditions after the Civil War until some of the properties were purchased by two women, and in the 20's and 30's they were slowly restored and painted in a Caribbean color scheme.
It's a lovely walk and picture spot before you walk along the water to view the mansions along East Battery.
The Daily/Butcher & Bee
During our last morning in Charleston we wanted to keep things relatively light before we headed to Savannah so we made two last stops at The Daily and the Butcher & Bee.
The Daily is a local coffee shop so we fueled up in this cute spot that had fresh baked goods on the counter as soon as you walked in. I ordered a Matcha latte and a chocolate almond croissant. The matcha wasn't the best I'd had, but the croissant more than made up for it.
Just across the long parking lot was Butcher & Bee which is known for its sandwiches.  Their menu changes daily and on this particular Wednesday morning the grilled cheese was calling my name. Gruyere, herb goat cheese and cranberry was served on wheat bread with a small side of pickles.
It was a really nice blend of flavors and while I was a little full from my croissant I ate a few bites at the restaurant and the rest as I drove to Savannah.  The taste an hour later was just as good.
I think Charleston makes a great place for a long weekend, and while you might not run out of places to eat you might run out of things to do.  By far my favorite activity was just walking around and looking at all the beautiful buildings.
While I know that Jeni's is a chain, I'm always happy to find one of her shops in my travels because her ice cream is just plain heavenly.  I've indulged in Nashville and Atlanta, and despite the windchill temperature being in the twenties, nothing was stopping me from getting two scoops.
I got churro mixed with chocolate and I sat in quiet ice cream bliss for quite awhile.  Jeni's is a must stop for ice cream lovers no matter the city and we are still waiting for her in Orlando!
Savannah Travel
This wasn't my first jaunt through Savannah, but with a limited time frame of 24 hours I wanted to try and pack as much in as I could for my travel partner who had never been.
The first stop once we checked in at the gorgeous Kimpton hotel, Brice (which we booked that morning using Hotel tonight for the best rate) was of course for coffee at where else but the Coffee Fox.
The Coffee Fox is a craft coffee house in the heart of downtown and the baristas were just as friendly and engaging as I remembered from my last visit. I ordered my Chai latte they quickly let me sample their new tumeric ginger chai latte.  It was awesome but potent, so I stuck with my regular order.
After a quick stop across the street to the Paris Market (which I also recommend to tease you as you look at pretty things you can't afford) we walked to an early dinner at Ampersand.
While my meal and cocktail were ok, my friend wasn't thrilled with her fish tacos that were lacking much of the main protein.  You can't hit a home run with every meal, but our bartender/server was really great.
Every trip to Savannah should include at minimum one trip to Lulu's Chocolate Bar.  Their martinis and desserts are beyond decadent. I wish that there was a place similar to this (affordable with no reservations necessary) in Orlando.
I got the Chocolate Coconut Macaroon Martini and my friend got the Espresso Martini.  Of course we couldn't stop there, so we got the crème brûlée trio.
Chocolate wasted is a thing, and we enjoyed every second of it on our Uber ride back to our hotel.
I wasn't quite ready for my meal at the Collins Quarter.  The coffee menu I had reviewed the night before had reeled me in with a Spiced Lavender Mocha latte, but I was overtaken by how beautiful the space was, how mouthwatering everything on the menu looked and how sweet and personable our server was. Come to think of it we didn't encounter bad service anywhere in Savannah. I give all credit to Southern Charm.
We both couldn't help but get roped in after reading the description for the Smashed Avocado but in true vacation breakfast style I also ordered the Lemon Ricotta hotcakes.
Before you judge my decision to buy avocado toast, something I make regularly for myself at home, here is a calculated eating strategy behind it.  It allows you to feel like you are being healthy on vacation all while not filling yourself up so you still have room for something as amazing as these pancakes.
This thinking backfired a bit because the helping of our toast was larger than expected and came with the mildest and most pleasurable Feta cheese I've ever had, heirloom tomatoes, micro herbs, shaved radishes topped with a poached egg.  It was a lot to attack and when the pancakes that were topped with seasonal fruit compote, mascarpone, and candied pecans turned out to be a bruncher's dream, this became a Sophie's choice situation.  Which plate did I devour and which one did I leave amazing morsels behind.
Collins Quarter just might have been my favorite meal of the entire trip and I'm already planning another Savannah excursion just to eat there again.
Forsyth Park
After a meal for the books, it was time to again burn some calories in the perfect weather we were enjoying in the famous Forsyth Park.
This a park that Leslie Knope would be proud of. It takes up 30 acres of historic Savannah, and contains walking paths, a café, a children's play area, a Fragrant Garden for the blind, a large fountain, tennis courts, basketball courts, and plenty of green pastures for exercising, lounging, or people watching.
I was so excited to bring my hand-lettering friend to the mecca of art and design in Savannah, the SCAD Art Museum.
On my last trip I had loved the exhibits and the space itself so that was to be our last spot before the ride back to Orlando.  Sadly upon walking into the museum we realized that an installation was in progress and 95% of the museum was closed off.  I was heart broken, but we ended up spending some time in the beautiful courtyard taking pictures and leisurely enjoying the weather, so it wasn't a total loss.  I recommend to anyone visiting Savannah to visit and hopefully you won't get the bum rush.
One last caff up for the journey home was needed so we stopped at Savannah Coffee Roasters which was just a few blocks from SCAD. The space was huge and they even had a food menu. I'm normally a little skeptical when I can order food at a coffee shop, feeling like one of them must be lacking in quality.  However my chai latte was great and the fruit bowl with granola, yogurt and honey was incredibly fresh not to mention a great portion size.
Sometimes I complain about living in Florida verses the northeast, since it takes a decent drive to get to any other major cities to explore, but Savannah and Charleston are both a bearable drive and I barely scratched the surface on what these cities have to offer for anyone looking to take a road trip and explore beyond our Florida borders.